The dust seems finally to have settled regarding the recent firing of Yahoo's reigning queen, Carol Bartz. Most of the reactions in the business press, blogosphere, and twitterverse examined how her brazen words and emotional reaction to an unceremonious termination (i.e. over the phone, with a lawyer's script) will impact the company and her own career. There were few it seems, who sympathized with the termination decision itself, citing Yahoo's declining marketshare, stagnant stock prices, and rampant turnover of top talent.
Top executives at publi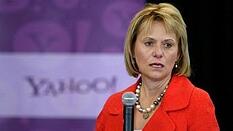 c corporations have long been in the public eye and are routinely targeted when their appointment does little to reverse the downward spiral of company performance. What is new, however, is how public the "feedback" these executives and other organizational leaders are receiving actually is. New sources that solicit public employee feedback targeted at the upper echelons are a recent trend cropping up in social media. Sites like Glassdoor.com where Carol Bartz undoubtedly witnessed her employee approval ratings declining from 90% to 33% in her 2.5 year tenure and employee feedback comments directed towards her and the rest of senior management. As is often the case with 360 and upward feedback, comments ranged from constructive and balanced such as "Keep fighting the good fight; keep employees motivated, and reward them for doing well! Do better at identifying top talent and nurturing, stimulating, and retaining that talent" to destructive and unhelpful as in "Go away already!" Just last week, news of HP CEO Leo Apotheker's termination again called attention to Glassdoor.com to provide evidence of his sharply declining employee approval ratings and the many comments aimed at senior leadership competence.
The rise of public upward feedback should not be surprising with the influx of feedback-loving millenials and social network savvy 30 and 40 somethings in the workplace. It may not be long before someone invents the twitter hashtag #AcmeUpwards2011 and invites team members to provide 140 characters of feedback to their @Acmeboss. So, since upward feedback is no longer reserved for the annual 360 feedback process, or even for on-demand forms of micro performance feedback (see a previous post), Human Resources must now contend with the very public nature of feedback and support managers through receiving feedback out in the open.
But do the usual rules of coaching managers on receiving feedback apply in this new public arena? Aren't leaders even less receptive to developmental feedback when it is unsolicited? How can we ensure constructive feedback with the anonymity provided online? Social upward feedback brings new challenges for HR, as it can be difficult to apply our legacy coaching guides to such modern practices. Still, some of our time-honored approaches to coaching employees on both giving and receiving feedback can be helpful.
Coach employees to provide social upward feedback that is:
Succinct and simple. Use language that everyone in the organization understands – preferably competency-based strengths and development needs. Leverage the public space for high level feedback that spurs team dialogues and one-on-one conversations. Save detailed examples for follow up discussions that happen live.
Balanced and constructive. Provide behavioral strengths and development needs worded to help leaders hear and act on feedback, rather than deflect and ignore it. As a general rule, employees should provide feedback that they wouldn't mind being attributed back to them (hypothetically, if the social site promises anonymity).
Coach leaders to respond to social upward feedback by:
Taking unsolicited feedback in stride. It may come at anytime, anywhere online, so prepare leaders at the outset for this possibility. Communicate that while 360's and upward performance feedback will still be conducted regularly, that employees may take advantage of the many social tools that exist to provide upward feedback. Help leaders understand the value of receiving just in time feedback that gives them an overall feel for the pulse of their organization/dept/team.
Embracing the broadcast. The shift to a more open feedback culture can be especially uncomfortable for leader's who are long accustomed to receiving feedback with the door to the executive suite closed. Feedback shared amongst team members in an open and constructive way will help the individual recipient appreciate the context around the specific feedback, as well as to facilitate additional insights from the larger group. For example, if a leader receives a developmental suggestion, other members of the team can follow up with their specific experiences, recommendations and assistance in helping him/her to embrace the feedback and take action. In this way, the entire group is working together actively and openly towards making positive changes.
Setting expectations for change. Employees who view their leaders as open and responsive to feedback are more likely to attend to their own development needs. In traditional 360 feedback processes, leaders often take the feedback back to their entire group and share their plans for development. In so doing, they give credence to the information their employees provided and create developmental accountability for themselves. Social upward feedback simply removes a step from the process by making this information public from the get go.
Welcoming follow-up feedback. Ideally, as leaders become more comfortable with social upward feedback, they will encourage employees to share ongoing feedback in this manner. HR should support this process by offering reviewers guidance in how to provide this feedback in the most constructive and helpful manner.
For more on 360 Degree Feedback, view our recent digest.
Get the latest insights delivered straight to you!