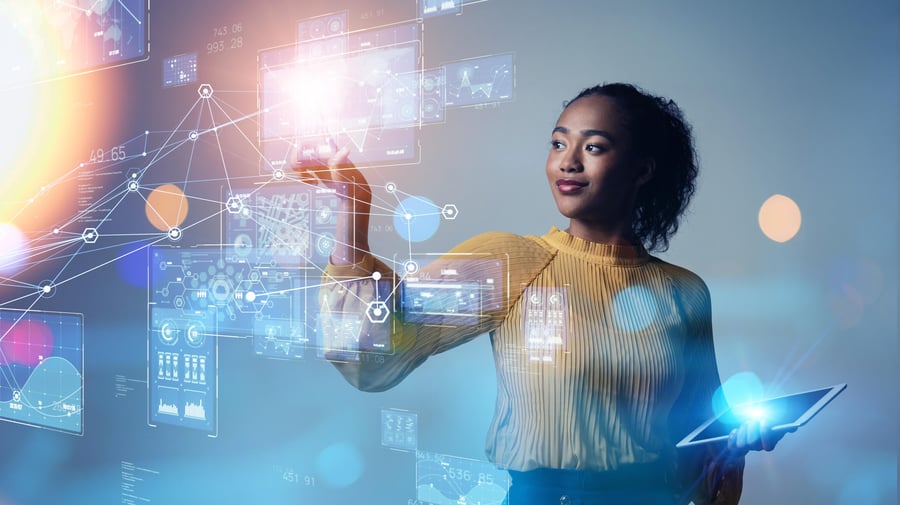 The business world has been changing rapidly since the pandemic radically shook things up and ushered in a new normal. Unfortunately, most HR software products have not kept pace with this dynamically changing world. What worked yesterday has become a poor fit for companies' current needs.


Why It May Be Time to Look for a New HCM Software Solution
There are plenty of reasons to reconsider your choice of people management software. Let's look at four common scenarios that may call for a new HCM solution.
1. Your standards have risen as you embrace digital transformation.
The last few years have seen companies embrace digital transformation at an unprecedented level. Even before 2020 was over, research already made it clear that the COVID-19 pandemic accelerated the adoption of digital technologies by several years.
Many companies have discovered the way digital solutions can help them optimize their process across the board, from the way they interact with customers and colleagues to the way they manage talent in their organizations. As companies embrace digital solutions across their operations, they may find that some of the software solutions they used to settle for are falling short of their current standards.
You want to ensure your HCM software is the ideal fit and you're working with the latest technology. Companies change, people change, employee expectations change, and so should your software.
The global HCM market is valued at $23.6 billion and is growing rapidly. With the many HCM software applications on the market today, there's no need to settle for anything that feels outdated or is anything less than an ideal fit.
2. Your company is growing.
Inflexible, one-size-fits-all solutions may work sufficiently for small businesses, but as you add more employees, add new business units, and expand to new locations, your requirements for a flexible and configurable solution that can handle these changes become more in demand.
One approach is to swap out your old solution for a new one designed for your current size and structure. However, it's best to think long-term to choose a solution that is not only a great fit now but will still be a great fit as you continue to grow. The best people management solutions will scale with your business and offer the flexibility needed to tailor the solution to your evolving needs.
Over time, companies will require the ability to use multiple competency models with multiple workflows (multi-rater, multiple managers, HR review and approval) and have their own unique branding. Consider whether your current HCM software is still meeting your needs or whether it has too many limitations. It may be time for an upgrade.
→ Learn more about how to evaluate the features and tools you need from HCM Software in our Vendor Evaluation Checklist.
3. You need a cloud-based solution.
If you're using on-premises or internally built software, it's definitely time to make a switch to a cloud-based deployment model. Companies are increasingly flocking to the cloud—and for good reason. Cloud-hosted HCM software allows companies to benefit from:
Access to applications and data from any location
Easier scalability and flexibility to tailor applications to your needs
Automatic software updates from the vendor to improve the experience
Annual Software-as-a-service (SaaS) costs instead of a large up-front investment
With such notable benefits, it's no wonder that 85 percent of enterprises are expected to take on a cloud-first principle by 2025. The mobility the cloud offers may be the biggest reason so many companies have embraced this model. With the rise in remote and hybrid work, many companies have needed to make applications available to HR teams, managers, and employees from any location.
4. Your HR department is overstretched.
A recent survey found that a whopping 98 percent of HR professionals are burned out. It's a staggering number but shouldn't come as too much of a surprise given the current challenges HR professionals are dealing with.
HR staff have a lot on their plate—especially during a time when most companies are actively recruiting to meet demand and overcome talent shortages. Time may seem like your HR department's worst enemy, and the demands for more and more information and data from senior executives add to the pressure.
This is where a more sophisticated enterprise-level software solution becomes a true value-added resource for the HR team. Especially when you pair better software with concierge service and support, the HR team can focus on its core competencies and have the right tools at team members' disposal so they can do their jobs with excellence.
HR and your company as a whole can benefit even more if you partner with a people management solution that gives access to experts such as industrial-organizational psychologists who serve as relationship managers and advisors to your company. These are trusted, experienced advisors who can help design new processes and workflows that have proven successful over time and within your industry.


Choosing and Implementing the Right HCM Solution from the Right Vendor
The HCM industry is huge, with thousands of vendors offering vertical and integrated solutions. The challenge HR teams face is choosing the right solution(s) from these many options to meet their needs.
Compare HCM software options.
Some solutions attempt to cover all HR needs on one integrated platform, while others—called best-of-breed solutions—specialize in a certain area. For example, viaPeople's people management solution focuses on performance and talent management with tools for succession planning, performance reviews, promotions, and more.
Best-of-breed solutions tend to deliver a much better solution for the function(s) they were created for, making these the top HCM software options to consider. Integrated solutions, on the other hand, typically fit the old saying, "Jack of all trades, master of none." In other words, they may come with a lot of capabilities but fall short in areas such as user experience or customization features.
Even though the industry is maturing, there is still no one vendor that offers a great fully integrated solution, and there may never be a one-vendor solution for one simple reason: Every company manages its people differently. Mixing and matching solutions for different HR functions allows you to tailor your HR software to your exact needs and priorities.
Compare HCM software vendors.
When it comes to comparing vendors, you want to choose one that offers robust support services. This can often make all the difference in your experience with the software. A vendor who is involved in ensuring you have a great experience will offer training and live support to help you optimize the solution for your specific needs.
Once you choose an HCM solution, you should follow best practices for implementation, with help from your vendor, to ensure you make the most of this new solution. Your vendor should be willing to take an active role in the implementation process.


Compare HCM Vendors with Our Checklist
The right HCM can make a profound difference in the way you manage employees and in the success of your company as a whole. At viaPeople, we have designed people management software products that are flexible and adaptable and can grow as quickly as the company shifts and changes. Plus, our experts are here to help each step of the way.
If you're comparing your options and want to know which features or characteristics to prioritize, use our "People Management Vendor Evaluation Checklist" as a guide.
Featured Resource
HCM Software Vendor Evaluation Checklist
An easy-to-use tool to compare vendors and choose the right people management solution for your team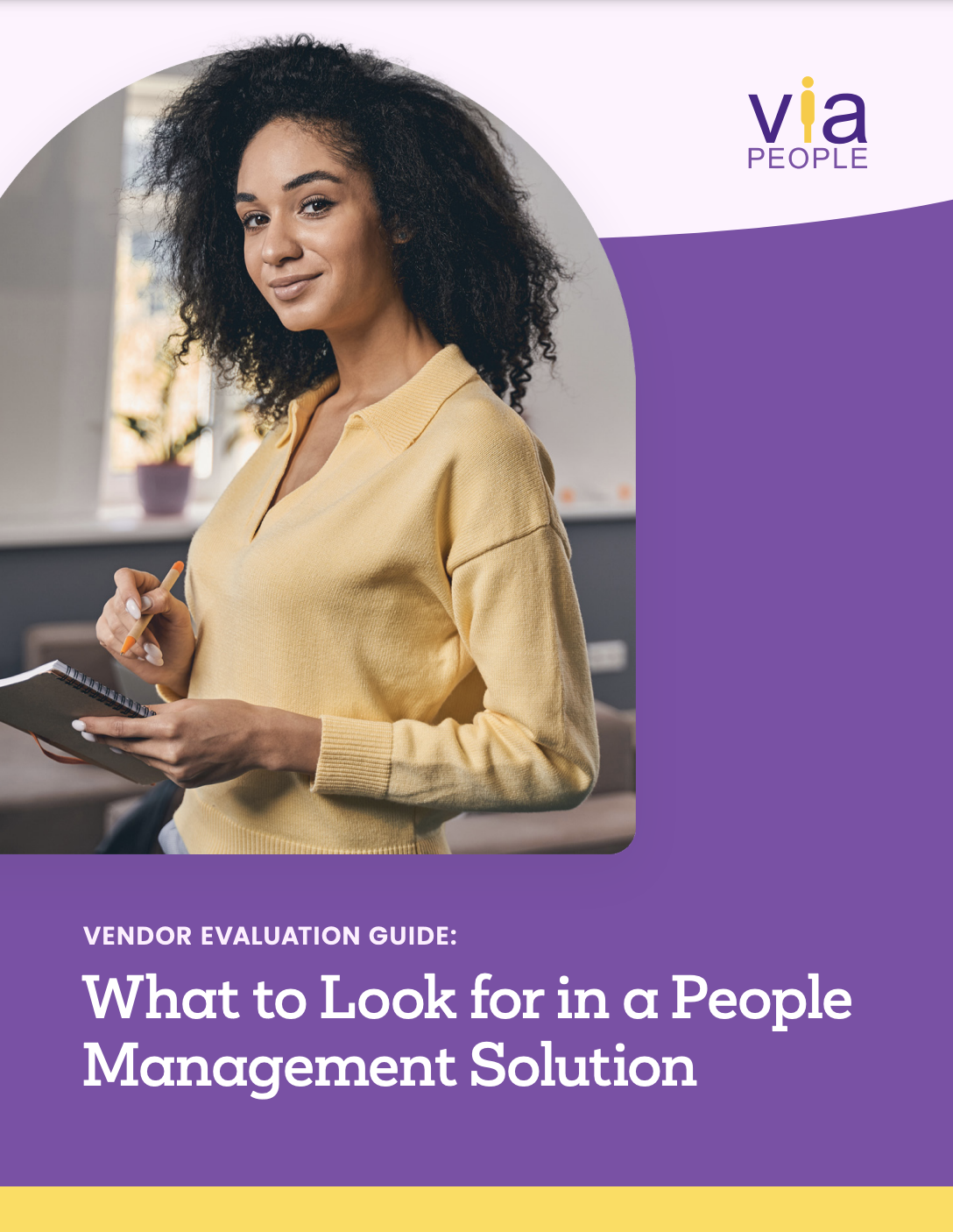 Get Your Copy
Get the latest insights delivered straight to you!
About the Author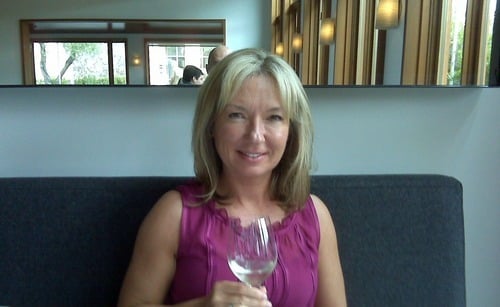 Karen N. Caruso, Ph.D.