Use the 9 Box to Develop Talent in Succession Planning, Part 2:

Developing those with Future Promise

In Part 1 of Use the 9 Box to Develop Talent in Succession Planning: Development at the Top, I outlined a set of recommendations for development individuals who have been identified as having high potential - those individuals who would be placed in the top row of the 9 box grid. In this installment, I will examine those in the center - individuals who have demonstrated some future promise and have been deemed as having a moderate level of potential. Talent development as part of the succession planning process must be individualized to meet the unique needs of each leader.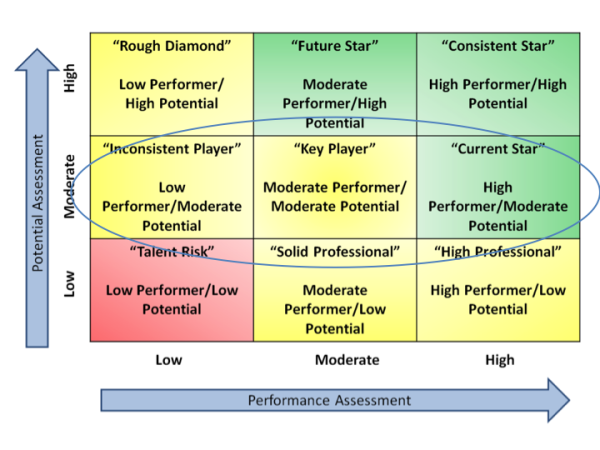 Moderate Potential - High Performer
It can be difficult to differentiate the characteristics of those individuals who are in the top right box of the 9 box from those one row down. In order to do so, we must remind ourselves that high performance does not equate to high potential. Leaders in this box are observed to:
Deliver consistently strong performance and solid results, occasionally exceeding expectations in his/her current role.
Demonstrate motivation to succeed, and aspire to greater challenges but primarily at the same organizational level.
Accept new challenges and add new skills when the job calls for it, as well as applies lessons learned to enhance success of own area.
Display technical, professional, managerial & leadership skills that are expected for the current organizational level.
Individual development efforts for these individuals should focus on preparing them and testing their ability to take on broader assignments. Their advancement opportunities may likely be more long-term.
Target learning and development activities on specific competencies for future, target assignments.
Provide task force or key project assignments with:

company-wide exposure
high visibility
significant P&L responsibility

Engage them in mentoring others to development talent building skills.
Put them in charge of a change management initiative.
Moderate Potential - Moderate Performer
Leaders in the middle box of the 9 box grid are often referred to as key players or contributors. These individuals:
Deliver the results that are expected of them on a consistent basis but may occasionally exceed expectations.
Are motivated to succeed and take on great challenges but typically at the same organizational level.
Acquire new skills when necessary and can effectively apply their knowledge and experience to enhance performance.
Demonstrates technical, professional, managerial, and leadership skills that are expected for his/her current organizational level.
Key players may not aspire to advance to higher levels; don't pressure them to do so. Target development efforts in their current role.
Focus learning on the development of advanced skills and competencies.
Enhance responsibilities and scope of current position.
Demonstrate that the organization values their ideas and contribution by soliciting and applying their ideas.
Continue to test leadership capabilities through assignments that:

Stretch current capabilities and skills
Provide opportunities to lead cross-functional teams
Offer opportunities to teach and coach others

Continuously check-in regarding willingness to advance and explore opportunities.
Moderate Potential - Low Performer
Individual leaders in the middle left box of the 9 box grid are often individals who had performed well in a different role but are not excelling in their current positions. They may be new to the role or are not a good fit for the position overall. These leaders:
Deliver a low to moderate level of performance and results in assignments and responsibilities.
Exhibit little or no interest in taking on greater responsibilities or higher level roles.
Are marginally interested in learning from experience, or in changing his/her routine, and focuses on a few narrow or specialty interest areas.
Demonstrate technical, professional, managerial, and leadership skills that are at or somewhat below what is expected for current organizational level.
Development efforts for these individual leaders should be aimed at clarifying job fit and improving performance.
Carefully compare job requirements with individual skills, capabilities and interests.
Focus development on specific competency or skills gaps to move from low to moderate/high performance.
Provide targeted coaching to enhance specific skill areas.
Explore additional areas of interest with a focus on building alternative skill sets.
Monitor regularly to evaluate for performance improvement and re-asses potential.
Part 3 of Use the 9 Box to Development Talent in Succession Planning will focus on development of individuals assessed as having a Low level of Potential. Stay tuned! Subscribe to our blog to be among the first to read it.
Get the latest insights delivered straight to you!
About the Author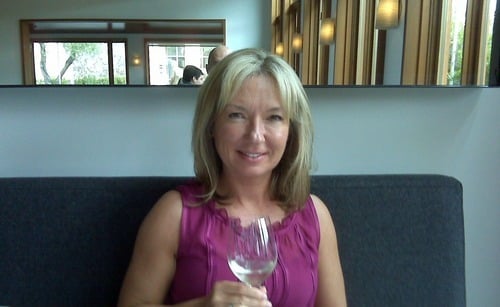 Karen N. Caruso, Ph.D.