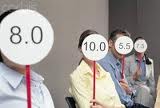 Evaluating performance is one of the most important aspects of employee performance management. In order to develop employees and keep them engaged, employees must receive performance feedback that is not only an accurate assessment of their actual performance, but also identifies both their strengths and development areas.
Unfortunately, managers do not seem to have as much fun evaluating performance as Sharon Osbourne or Piers Morgan do on America's Got Talent. Often times, managers are overwhelmed by the performance appraisal process and struggle to spend enough time on the actual appraisal of performance.
As HR Leaders and Coaches, we may not be able to make this important responsibility entertaining, but we can help managers to improve their skills in performance appraisal. We must all remember that performance ratings have consequences. Whether ratings are being made as part of the employee performance management process or a part of a developmental 360 degree feedback assessment, the outcomes of the rating process have implications on future decisions. When performance ratings are accurate and fair, employees are more likely to be able to use the feedback to become more effective in their work.
Avoid these Performance Appraisal Rating Pitfalls
Pitfall 1: 'Straight Ticket' Error
The straight ticket error is the tendency to rate people using only the middle of the scale. As a result, a majority of ratings are "Meets Expectations","Competent" or "Average". This tendency is typically caused by managers who are too cautious or conservative in making evaluations. They do not want to either praise or criticize, or they may not be able to effectively distinguish between varying levels of performance.
Impact: Employees do not have a clear sense of their strengths. They are de-motivated because they see performance evaluation as meaningless and gain no feedback on how they can improve.
Pitfall 2: Halo Effect
The Halo Effect refers to the tendency to rate an employee high on all areas of performance. If an employee is good in one area they are, in turn, good in all areas. This bias may be the result of a manager's inability to identify areas for improvement, or a desire to present the performance of team members in a positive light.
Impact: If given all high ratings, employees will not be able to apply energy toward changing behavior or learning new skills and will not see any reason to improve. Having little incentive to develop can cause the employee to become disengaged.
Pitfall 3: Reverse Halo or "Horns" Effect
While less common than the Halo Effect, the Reverse Halo Effect is the tendency to rate a person low across all areas of performance. Similar to the Halo Effect, if an employee is struggling or not performing up to expectation in one area they are, in turn, a poor performer in all areas. This tendency is typically caused by personal bias or the inability of a manager to see past a particular performance incident or issue.
Impact: An employee is very likely to perceive the performance appraisal process as unfair if they are not recognized for the strengths that they do offer the organization. The feeling of unfair treatment will certainly impact performance and employee engagement.
Making Fair and Accurate Performance Ratings
The following tips can help managers overcome any of these pitfalls and increase their ability to provide helpful and accurate performance ratings.

Rate each objective or competency independently – ratings of one aspect of performance should not impact ratings of others.
Performance ratings should be assigned based on behaviors and/or performance that the manager has observed, not based on general impressions. If performance feedback on an employee is provided from another individual, it is important that managers validate that feedback by his/her own observations. Managers should refer to job descriptions and performance documentation collected throughout the year to aid in rating the final level of performance.
Consider the individual's behavior and performance for the entire performance cycle (quarter, mid-year, year-end) – do not let one event or impression overly influence ratings.
Start at the midpoint of the rating scale and move rating up or down, based upon specific examples of behavior exhibited.
Avoid rating all aspects of performance at the midpoint of the rating scale. Managers should seek to clearly identify the things an employees does well and the areas of improvement.
What are your thoughts? How have you coached managers to improve their skills in evaluating performance?
Please share with us!
Related Articles:
7 Steps to Becoming a Performance Appraisal Rock Star
HR Technology Makes Employee Performance Management SMARTT
"Characters Welcome" in Performance Appraisal Discussions
Get the latest insights delivered straight to you!