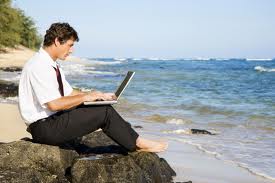 The classic research on goal setting and motivation theory states that individuals are more likely to be motivated to perform by creating their own specific goals and working toward those performance goals while receiving feedback on their progress. This theory is summarized using the anagram, SMART, which means Specific, Measurable, Achievable, Relevant, and Time-bound (also see our whitepaper: SMART Performance Goals).
But what about the extra T that is Technology? HR software has revamped the way organizations view their employee performance management process. Goal setting is a major part of this process and provides a plethora of benefits to the organization, managers and employees. Flexible HR software facilitates performance goal setting in three important ways:
Collaboration
HR software should allow an employee to share performance and development goals with his/her manager or other stakeholders in the organization. Employees should be able to modify or update goals and then alert others to the changes. Managers can use HR software to provide:
A record of discussion of progress on goals,
Recognition of progress and the achievement of results,
A location to monitor progress and timelines,
Adjustment of goals based upon organizational or departmental changes.
Goal setting is a collaboration by both employee and manager. Flexible HR software should not only support the process but encourage collaboration through easy updates and alerts.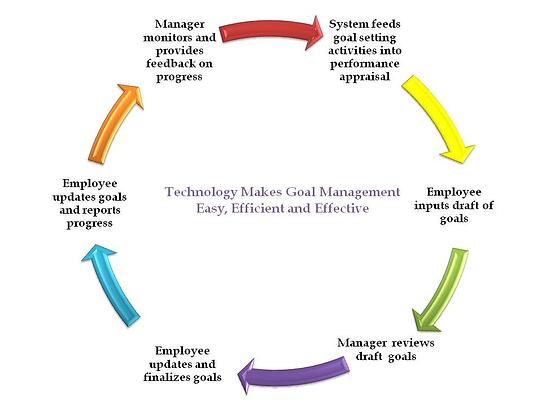 Linkage and Alignment
One of the key elements of goal setting theory is setting goals that are linked to the objectives of the organization. A flexible, goal setting tool would allow employees to see how their goals contribute to the organization and how departmental goals cascade down to the individual level. This allows the employee to see how they are contributing and working toward a common objective. Technology makes it easier than ever to facilitate goal visibility at multiple organizational levels.
Documentation
Performance progress notes are a critical piece of employee performance data and should be used to support employee performance management. Technology can be used to simplify the preparation of yearly performance appraisals. HR software allows goals, updates, and progress notes to easily be fed into the performance appraisal, allowing managers to use this information to provide ratings and make decisions. This information can then be archived and applied to succession planning and other activities.
SMART goal setting continues to influence the way performance is managed today. Human Resource leaders can provide flexible HR software to make goal setting and employee performance management more efficient and convenient. Technology can help organizations improve performance and make talent a true differentiator in the marketplace.
Learn more about Employee Performance Management:
Goal Alignment: How Successful Organizations Social-Network Performance Management
Get the latest insights delivered straight to you!