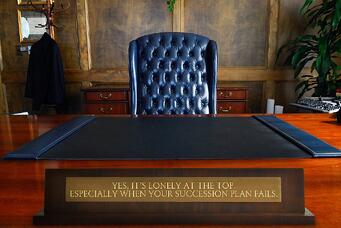 The recent news on Steve Jobs' resignation highlights the importance of having a solid succession planning process in place. In the case of Apple, there was, and is presently, a successor for Steve Jobs however for many organizations this is not the case. When executives leave an organization whether for health reasons, desire to move to another company or retirement, not only does this leave a gaping hole in the executive team but it's very expensive to fill the role externally (and this certainly comes with no guarantee that the new external hire will "fit" within the organization culturally). If the role is filled unexpectedly with an internal leader, then that person's role is vacant, and so on and so on.
Unfortunately, the lack of successor identification can be a problem in even the most successful organizations. For many years there has been shareholder concern about the lack of a successor for Warren Buffett at Berkshire Hathaway. Attempts to quell this concern haven't been very successful. In recent years, David Sokol was put forth as the potential successor for Buffett but abruptly resigned last spring over insider trading concerns. There is now an attempt to calm shareholders by telling them that the Berkshire board will be able to name a successor for Buffett "within the hour" if necessary. While this could certainly be the case, one can understand how it would cause great concerns not only among shareholders but with Berkshire employees, as well.
When successors to key executive roles are not identified many concerns unfold:
Which roles will need to be filled should the successor come from the internal talent pool?
Will leaders within the organization have adequate preparation and the requisite skills if they need to fill a vacancy?
Will an external hire "fit" our culture and fully understand our business?
How steep will the learning curve be?
How will the shareholders react?
The main question is: Do you want to take this chance with your stock price?
Ultimately, organizations would most certainly say "no". When planning for succession is viewed in the context of overall business success versus solely an HR initiative, the process takes on a different (and vastly greater) level of importance. By helping executives to understand the broader implications of the succession planning process and true succession management, HR leaders can more fully engage these executives and instill action on the part of the not only the executive team but also the board members.
Most HR departments already have the basic data in place to begin to process of pulling together information in preparation for succession planning. Many of our clients incorporate the following data elements when preparing to launch their processes:
Past performance evaluation or appraisal data from the last 2-3 performance management processes
360 degree feedback on leaders throughout the organization
Career development profiles or career mapping information
Mentoring program (informal or formal) information on participants such as activities engaged in, mentee development as a result of the program, etc.
Engaging a consulting and software vendor who has expertise in succession planning processes can ensure you incorporate all of the appropriate elements and can advise on potential obstacles as well as strategies to mitigate these obstacles along the way. For more information on how to get started with your succession planning initiative, read my recent article titled "Make the First Move in Succession Planning."
Get the latest insights delivered straight to you!